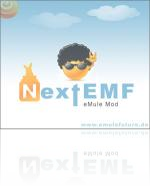 eMule0.46c_NextEMF_v0.6-src.7z
eMule nextemf is a Modification of the Filesharing Programm eMule. eMule is a free peer-to-peer (P2P) file sharing application for Windows.

Special Features:
- AutoHard Limit
- ClientAnalyzer
- ClientDataRate is ajustible
- Dynamic Block Request
- Erweiterte Clienterkennung
- Improved Upload-Caching
- Show Bad Mods in all Lists
... und vieles mehr!
File-ID: 1123087235
Size : 1.580,85 kB
Error: JavaScript must be enabled.