eMule ist ein OpeSource Filesharing Programm. Eine Mod ist eine Weiterentwicklung der Grundversion von eMule durch einen Modder. Die Mod hat oft andere und bessere Features. eMule-Mods sollten immer aus einer sicheren Quelle geladen werden.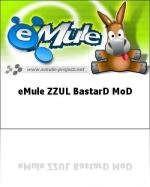 eMule-0.46c-BastarD-Armadillo-0.9.1-bin.rar
eMule bastard is a Modification of the Filesharing Programm eMule. eMule is a free peer-to-peer (P2P) file sharing application for Windows.

Special Features:
- basiert auf dem ZZUL MoD !
- Client IP number shown in upload list
- recognize Powershared or Small File Pushed
- decrease CPU cycles and I/O stress
und vieles mehr...


File-ID: 1135653415
Size : 1.530,80 kB
Error: JavaScript must be enabled.