eMule ist ein OpeSource Filesharing Programm. Eine Mod ist eine Weiterentwicklung der Grundversion von eMule durch einen Modder. Die Mod hat oft andere und bessere Features. eMule-Mods sollten immer aus einer sicheren Quelle geladen werden.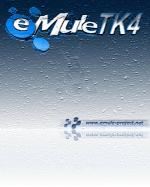 eMule-0.48a-TK4Mod-2.1d-bin.rar
eMule TK4 is a Modification of the Filesharing Programm eMule. eMule is a free peer-to-peer (P2P) file sharing application for Windows.

Special Features:
- Header View+ Allows Viewing
- Permanent search filters Permanent search filters option 1.4g
- Slot Focus Basic
- Download improvements Prevent slower client's locking out faster clients
- Upload improvements Added no sleep for uploadthrottler thread
- Virus scan AntiVir 7 Premium support added 1.5d
- Forceshare *Re-evaluated and redesigned version 1.3a
etc.
File-ID: 1194700197
Size : 2.793,57 kB
Error: JavaScript must be enabled.