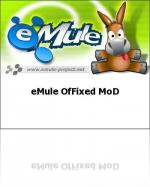 eMule-0.49c-OfFixed-v1.0-bin.rar
eMule OfFixed is a Modification of the Filesharing Programm eMule. eMule is a free peer-to-peer (P2P) file sharing application for Windows.

Special Features:
- 80% score for non SI clients (Xman)
- AntiCorruption (WiZaRd)
- AntiShape (netfinity)
- Aux ports support (lugdunummaster)
- Better passive source finding (origin unknown to me, taken from X-Ray)
- Enhanced Client Recognition (ECR) v2 (Spike2)
und vieles mehr...


File-ID: 1253237843
Size : 2.817,15 kB
Error: JavaScript must be enabled.