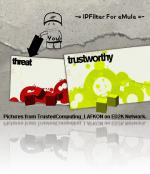 ipfilter.v0153.zip
eMule ipfilter is *not* a Modification of the Filesharing Programm eMule. eMule is a free peer-to-peer (P2P) file sharing application for Windows.

Special Features:
• Filtering will prevent up- and downloading to the banned clients
• It is not possible to add single clients by mouse click to the list of banned clients nor will it ever be.
• Filtering is done on TCP level so no connection to banned clients is ever established.
• The IP-filterlists are NOT maintained by emule-project.

File-ID: 1316700517
Size : 4.578,49 kB
Error: JavaScript must be enabled.